Before 2017, when free stock trading resurfaced, it was believed that trading free will force any company to go bankrupt. Well, that is not the case anymore as experts have discovered smarter ways to help people invest while keeping the company in business as well.
First in the block was Robinhood. The platform proved that it is, in fact, possible to trade free stock and remain in business.
Yes, you guessed it – other companies began to flood this industry as well. That is to investors' advantage though because the fiercer the competition, the better the market and the bigger the incentives.
One of the many free stock companies who came to rival Robinhood is WeBull. WeBull is an app-based brokerage created in 2017 to help investors gain control of their finances. Although it is considered the new kid on the block, it contains features that make it stand out from the crowd. For starters, WeBull contains better research tools than that of its competitors. This has always been its edge in the crowded industry. Away from that let's take an in-depth look at some of the features in this platform and how to get started.
Some Astounding Features
As I mentioned earlier, WeBull contains some astounding features which secured its seat at the table of the best free investment apps of 2019. These include [but are not limited to] the conventional features such as extended-hours trading, margin trading, and good customer service. Investment research tools such as stock screeners, revenue data, press release, watch list alerts, financial calendars, historical EPS, insider holdings and transactions, and analyst recommendations. In additional. It features technical indicators such as MACD, RSI, Exponential moving averages, and Money Flow Index.
Each tool is designed to provide the best possible investing experience for users as such they are easily customized to the investor's taste.
Getting Started with WeBull
Like most platforms, getting started with WeBull is pretty easy. You don't need to make an initial deposit or have a minimum balance (except, of course, if you are creating a margin trading account which requires a minimum balance of $2,000). With just a little information and your mobile phone, you are good to go.
First, you are required to register through a referral link and then download the app on your mobile phone. The next stage is the account set up where you get to enter relevant information about yourself. To do this, kindly locate the Trade option on the app and get started. Once completed, you will have to check available stocks by clicking on the GET option on My Free Stock menu. The stock is typically worth anything within the range of $3 to $1,000. I received a free share of GE valued at around $10.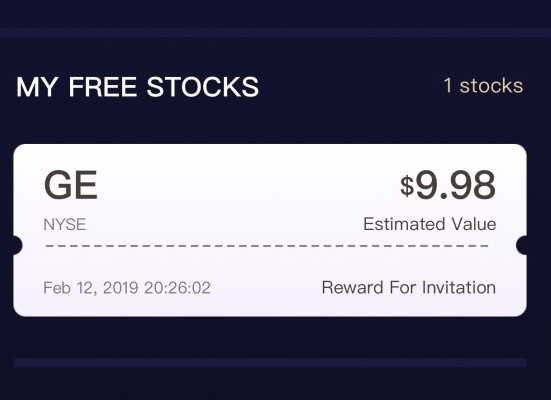 P. S: Some things you will need to set up your account include your phone number, social security number, email address, residential address, employment details, an ID, investing experience, and a photo of you.
Let's talk about the two free shares of stock
Yes, you read right! Investors get rewarded with free stock on WeBull. Every member is entitled to a sign-up bonus stock worth anywhere from $3 to $300. The stock awarded to each member is usually generated randomly from their algorithm. You might get lucky! Here is how it works. You sign up through my referral link and you will receive a random share of stock worth up to $300 as a sign up bonus.
Another way of getting free stock with WeBull is to leverage the bonus attached to your first 30 days as a member. Investors who invest $100 or more within the first 30 days on WeBull are awarded an additional stock worth up to $1000. The stock typically starts from $4 but you can always get lucky.
Is It Actually Free?
Yes. WeBull is a free stock trading platform. However, investors are charged for each wire transfer made. The charge varies with the type of transfer and the amount transferred. Depositing and withdrawing from linked bank accounts are free!
Typically, international transfers are charged at $45 per transaction while local transfers are charged at $25 per transaction. Nonetheless, this rate is reduced substantially after the initial wire transfer. The transfer fee for international transactions is reduced to $14 while that of local transactions is reduced to $8. Also, all transfers above $25,000 are done at no cost.
The fees attached to local and international transfers give other platforms such as NVSTR an edge as its members are not charged a dime for transfers.
What is WeBull's Commission?
Although trades are free on this platform, investors are required to pay the SEC and FINRA Trading Activity Fee (TAF). The SEC charges up to $23.10 per $1,000,000 of principal on each sale, with a minimum of a penny. FINRA a minimum TFA of a penny and a maximum of $5.95.
Pros
Zero commission fee
Real-time stock update
Quality customer service
Complete tool kit
Extremely convenient
Free paper account as a demo account
Cons
Trades are limited. Investors are not given the opportunity to trade mutual funds, OTC stocks, or bonds.
There is no provision for Good-to-Cancel (GTC) limit orders.
Conclusion
WeBull provides young investors with the opportunity to take charge of their investment. The powerful research tools and timely updates on the US and Canadian stock market make it one of the best investment platforms out there. You are provided with all you need to make sound investment decisions. This platform is perfect for any young investor looking to dip his toes into the stock trade world without getting burnt. It also offers you convenience as you can operate the app on the go. That is not to mention the free cash you get as you sign up and when you invest up to $100 within your first 30 days. I do not know about you but WeBull is a great platform to earn free cash and start investing.